– By #Pioneer Auto Show
$70 million…
Say it with me now. Seventy. Million. Dollars.
That was the price paid in June 2018 for a 1963 Ferrari 250 GTO, the most expensive car sold at auction to date. According to Marcel Massini, one of the world's top collectible Ferrari experts, it was sold in a private sale by German racecar driver Christian Glaesel to businessman and car aficionado David MacNeil, founder of WeatherTech.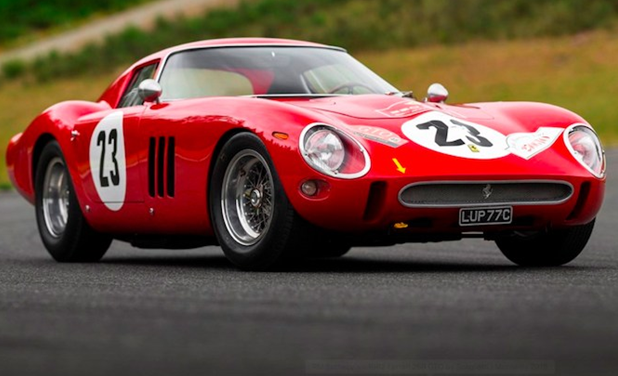 The $70 million price tag smashes the previous record of $52 million, which was the amount paid through a private sale for another 1963 Ferrari 250 GTO in 2013. While it's difficult to wrap our heads around that kind of money, Massini believes the trend will continue, stating, "We will see one of these Ferraris sell for $100 million in the next two or three years, I have no doubt about it". We also have no doubt, when you consider the recent history, which also notes the 2014 auction price of $38.1 million, as well as the 2018 auction price of $48 million for the 1962 model.
In purchasing the vehicle, MacNeil becomes a member of a very exclusive club, known as "Club GTO", though the owners themselves do not recognize the moniker. There can ever only be thirty-six members of this club and there are currently some very heavy hitters amongst its ranks, including fashion icon Ralph Lauren, Wal-Mart heir Rob Walton, Pink Floyd drummer Nick Mason, who purchased his in 1977 with his proceeds from the album Dark Side of the Moon, and Peter Sachs, grandson of Goldman and Sachs founder Samuel Sachs. Clearly, if you want to join the club for big boys, you better have the big league money!
So why would anybody pay this much money for a motor vehicle, you ask? Well, we asked ourselves the same question. It is just a car after all, right? Four wheels, a chassis, an engine, and some slick engineering, isn't that it? Sure, it has those essentials, but it's much more than that. In the world of collectible cars, and specifically the Ferrari brand, the 1963 GTO is considered the Holy Grail.
Why the Ferrari GTO is so special
Rarity. Power. Beauty. Success on the race track. These are a few of our favorite things, and the 1963 GTO embodies all of them. No, the GTO is not just a car. It is a testament to superior craftsmanship, high performance, detail, artistic vision, and innovation. No Ferrari before it, and none since, has managed to captivate an audience the way it has. Motor Trend Classic placed it first on their list of "Greatest Ferrari's of all time". Popular Mechanics dubbed it "The Hottest Car of All Time". This is some very high praise from some of the world wide authorities on all things motor vehicle!
Only thirty-six of these rare beauties were made, all between the years 1962-1964. It was designed to compete in Group 3 GT Racing, which included competition from the rival Shelby Cobra, Jaguar E-Type, and the Aston Martin DP214. And compete it did.
Initially homologated for Group 3 GT racing, the car debuted at the 12 Hours of Sebring in 1962. Driven by American ace Phil Hill - the Formula One champion at the time - and Belgian driver Olivier Gendebien, the GTO finished second overall, beating out several cars that were both more powerful and faster.
It was clear from that very first race, that the fine gentlemen from Ferrari had crafted an amazing pavement runner. The Ferrari would go on to win the over 2.0-liter class at the FIA Championship for GT Manufacturers for three years in a row. The 250 GTO came out on top in 1962, 1963 and 1964, while also winning its respective class at the 24 Hours of Le Mans on two occasions. Its GT dominance ended in 1964 at the hands of the V-8-powered Shelby Cobra Daytona.
MacNeil's 1963 GTO placed fourth in the 1963 LeMans, the 24-hour Grand Prix of endurance and efficiency, as it's known in the racing world. The following year, it placed first in the Tour 'De France, the grueling 10-day event that takes place amongst the beautiful backdrop of several French landscapes. The car was still being raced at classic events, even into the 1990's. Miraculously, and rather surprising, the car never suffered a crash, and has been completely restored to match the original color and look of the one that first rolled onto the scene back in 1963.
The next time a Ferrari GTO is sold, it will most certainly be north of, or close to, the $100 million mark. And do you know why? It's because the GTO is not just a car. It is a piece of history. An Icon. A Legend. Because it embodies all that is beautiful about the life of a classic car. It is in fact, the Holy Grail.
If you're interested in viewing cars that have made history, pay a visit to the one and only Pioneer Auto Show! Among our over 275 classic cars, we have a one-of-a-kind wooden car, a General Lee that was used in Dukes of Hazzard, and a 1903 Ford Model T, a collector's dream. And make sure to check back to our blog for the latest Pioneer Auto Show happenings, car news and much more!


---
Last Modified: