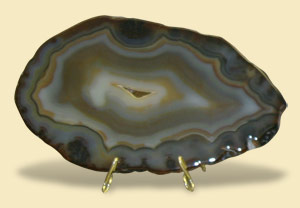 World Famous Pioneer Auto and Antique Town is home to the National Rockhound Hall of Fame & Lapidary. Visit their web site at www.rockhoundhalloffame.org
The Zeitner Rock, Gem and Fossil collection contains hundreds of rarities you won't see anywhere else. Be sure to take your time looking around!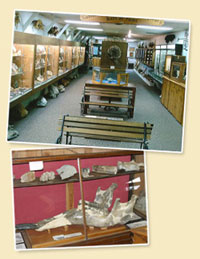 ---
Congressional Record, Nov 2, 2009

Tribute to June Culp Zeitner

The United States Senate
Nov 2, 2009
Section 21
Sen. John Thune (R-SD):
Mr. President, today I recognize the life and accomplishments of June Culp Zeitner, the "First Lady of Gems", who passed away on October 11, 2009.
June, a longtime South Dakota resident and world-renowned mineralogist, contributed greatly to the study and knowledge of minerals and fossils through her research and published writings. Her written works include 12 books and more than 1,000 scholarly and magazine articles on subjects such as natural history, cutting and polishing techniques, and collection methods.
In 1976, June acquired the nickname of the "First Lady of Gems" during a ceremony honoring the 25th anniversary of the American Federation of Mineralogical Societies. Those in attendance that day in the White House's Rose Garden to honor and thank June Culp Zeitner included First Lady Betty Ford and Mayor of Washington, DC, Walter Edward Washington.
As the founder of the State Stone Program, June encouaged each State to select an official stone, mineral, and fossil. It is thanks to June's initiative in founding the State Stone Program that South Dakota's official gem is the Fairburn Agate, our mineral is Rose Quartz, and our fossil is the Triceratops.
June's activities extended beyond the purely scientific to include education and journalism, serving as a teacher and, for 38 years, a member of the editorial staff of Lapidary Journal. She also founded the National Rockhound and Lapidary Hall of Fame in my hometown of Murdo, SD. Her other accomplishments include creating a display collection for the Smithsonian Institution and receiving various State and national awards.
The passion and dedication June displayed for mineralogy has done much to influence professionals and hobbyists alike. The people of South Dakota and our Nation are grateful for the contributions and life of June Culp Zeitner.

Note: The National Rockhound and Lapidary Hall of Fame is located in the Pioneer Auto Museum.