Latest Headline:
Murdo South Dakota's Pioneer Auto Show Acquires World Class Car
Pioneer Auto receives one of world's rarest, most valuable vehicles
RAPID CITY, S.D. – One of the rarest and oldest vehicles in the world were recently delivered to the famous Pioneer Auto Show in Murdo, S.D.
Dave's Transport delivered the vehicle, which fulfilled a long-term negotiation of moving them from a northeast collection where it had been housed for 65 years.
"Now, we have the honor of displaying the vehicle at Pioneer Auto Show," said Dave Geisler Sr., owner of the classic car museum. "This rare gem adds more class to our entire collection."
The antique car museum's new vehicle is the 1903 Ford Model A. Some facts about the vintage car are as follows:
---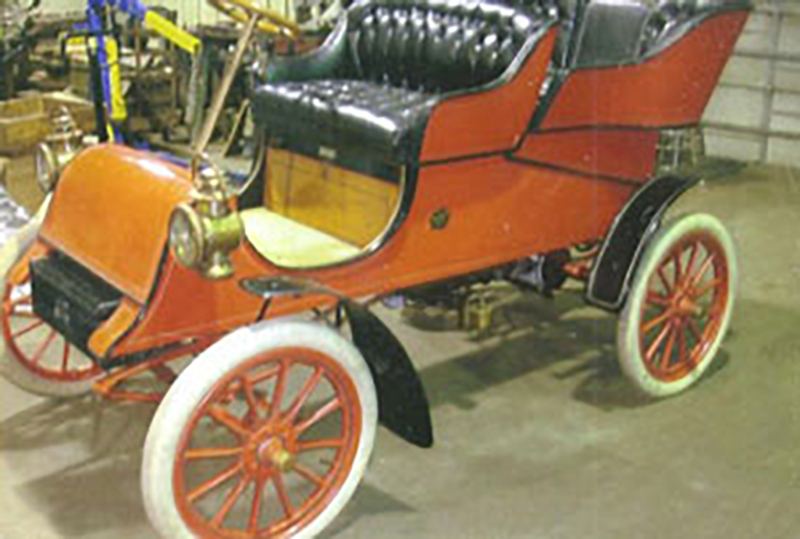 1903 Ford Model A
Serial #433
"This is a collector's dream," exclaimed Geisler. "Henry Ford's fingerprints are all over this one. Henry then built several more models until he settled on the Model T in 1908. We have been looking for a 1903 Ford since we opened in 1954."
The Inventory
Click on the decade to view antique autos from that era, such as 1965 classic cars, on display in the auto museum. To see vintage cars for sale, visit the Cars For Sale page.
1900's
| Year | Make/Model |
| --- | --- |
| 1902 | Curved Dash Oldsmobile |
| 1903 | Ford Model A |
| 1909 | Brush |
| 1909 | Auburn |
1910's
| Year | Make/Model |
| --- | --- |
| 1911 | Stoddard Dayton |
| 1912 | Ford Model T Panel |
| 1913 | Hupmobile |
| 1913 | Overland Touring |
| 1914 | Saxon |
| 1914 | Ford Model T Touring |
| 1914 | Beardsley Electric |
| 1915 | J. I. Case |
| 1916 | Overland Touring |
| 1917 | Apperson Jackrabbit |
| 1917 | Ford Model T Touring |
| 1917 | Grant |
| 1917 | Overland Touring |
| 1918 | Maxwell Truck |
| 1918 | Briggs & Stratton Flyer |
| 1918 | Nash Truck |
| 1918 | Samson Cabover Truck |
| 1918 | Dodge |
| 1919 | Velie Touring |
1920's
| Year | Make/Model |
| --- | --- |
| 1920 | Ford Model T Center Door |
| 1920 | Essex |
| 1920 | Willys-Knight |
| 1920 | Ford Model T Fire Truck |
| 1921 | Haynes |
| 1921 | Moon |
| 1921 | White Motorhome |
| 1921 | Stutz Touring |
| 1922 | Hupmobile Coupe |
| 1922 | Ford Model T Coupe |
| 1922 | Scripps-Booth |
| 1922 | Star Touring |
| 1923 | Maxwell Touring |
| 1924 | Franklin |
| 1924 | Flint |
| 1925 | Ford Rat Rod |
| 1925 | Rickenbacker |
| 1925 | Stanely Steamer |
| 1925 | Ajax |
| 1926 | Ford Model T Touring |
| 1926 | Locomobile |
| 1926 | REO |
| 1926 | Erskine Convertible |
| 1926 | Ford Fire Truck |
| 1926 | Nash "Modified Long Green Car" |
| 1927 | Jordan Playboy |
| 1927 | Ford Model T Roadster |
| 1927 | Ford Model T Sedan |
| 1927 | Kissel Roadster Rumble Seat |
| 1928 | Paige |
| 1928 | Marquette |
| 1928 | Whippet |
| 1929 | Chevrolet Sedan |
| 1929 | Ford Model A Pickup |
| 1929 | Roosevelt Victoria |
| 1929 | Durant Coupe |
1930's
| Year | Make/Model |
| --- | --- |
| 1931 | Pierce Arrow Covertible |
| 1931 | Packard Dual Cowl Conv "Tom Mix's" |
| 1931 | Ford Model A Victoria |
| 1931 | Devaux |
| 1931 | Bently-World's Largest Roadster |
| 1933 | Willys |
| 1933 | Ford Sedan |
| 1933 | Ford V-8 |
| 1933 | Rockne |
| 1934 | Auburn Phaeton |
| 1935 | Lafayette |
| 1935 | Chevy Sedan |
| 1936 | Dale Earnhart's Chevy Racecar |
| 1936 | Ford Sedan |
| 1936 | Hudson Terraplane |
| 1936 | Studebaker Dictator |
| 1937 | Rolls Royce |
| 1937 | Cord 812 - Yellow |
| 1937 | Cord 812 - Burgandy |
| 1937 | Diamond T Fire Truck |
| 1938 | Chevy Stockcar "Richard Petty Memorial" |
| 1938 | Cadillac V-16 |
| 1939 | Mercury Coupe |
| 1939 | Chevy 2-Dr Sedan |
1940's
| Year | Make/Model |
| --- | --- |
| 1940 | Buick Super Coupe |
| 1940 | Buick Limited |
| 1940 | Lincoln Zephyr |
| 1940 | Hollywood "Graham" |
| 1941 | Crosley Touring |
| 1946 | International Fire Truck |
| 1947 | Chevrolet |
| 1947 | Ford Coupe |
| 1948 | Nash Wrecker |
| 1948 | International Pickup |
| 1948 | Willys Jeep |
| 1948 | Hudson Commodore Coupe |
| 1948 | Studebaker Convertible |
| 1949 | Diamond T Pickup |
| 1949 | Nash 600 "Bathtub" |
1950's
| Year | Make/Model |
| --- | --- |
| 1950 | Mercury Coupe |
| 1951 | Frazier |
| 1951 | Ford 4x4 Pickup "Marmon Harrington" |
| 1951 | Dodge Pickup |
| 1951 | Jeep Wagon |
| 1951 | Studebaker Starlight Coupe |
| 1950 | Crosley Pickup |
| 1951 | Kaiser |
| 1952 | Buick Roadmaster Woody Wagon |
| 1953 | Packard Caribbean Cov |
| 1954 | Kaiser Darin |
| 1954 | Corrvette |
| 1954 | Mercury Sun Valley |
| 1954 | Smith Air Car "Flying Car" |
| 1955 | Thunderbird Cnvertible |
| 1955 | Willys |
| 1956 | Ford Pickup |
| 1956 | VW Bug |
| 1956 | Lincoln Mark II |
| 1957 | Dodge Sweptside Pickup |
| 1957 | Chevy BelAire Convertible |
| 1958 | Chevy BelAire 2DR Hardtop |
| 1958 | BMW Isetta |
| 1958 | Ford Hardtop Convertible |
| 1958 | Thunderbird Convertible |
| 1958 | Edsel Pacer |
| 1958 | Nash Metropolitan |
| 1958 | Rambler Sedan |
| 1959 | King Midget |
1960's
| Year | Make/Model |
| --- | --- |
| 1961 | King Midget |
| 1961 | Jeep Pickup |
| 1962 | Messerschmitt |
| 1962 | Olds Vista Wagon |
| 1963 | Studebaker Lark |
| 1963 | Ford Ranchero |
| 1963 | Corvair Convertible |
| 1964 | GTO Convertible |
| 1964 | Rambler Convertible |
| 1965 | Mustang Convertible |
| 1965 | Mustang Coupe "Trigger" |
| 1966 | Chevelle |
| 1966 | Mustang Fastback |
| 1966 | Ford Bronco |
| 1966 | Ford Galaxy 2DR Hardtop |
| 1966 | Rambler Marlin |
| 1966 | Ford Thunderbird Landeau |
| 1967 | Mustang Convertible |
| 1967 | Toyota Pickup |
| 1967 | Mustang Coupe |
| 1967 | Cougar XR7 |
| 1968 | Camaro SS Convertible |
| 1968 | AMX |
| 1968 | Mustang Coupe |
| 1968 | Shelby Mustang GT 500 |
| 1968 | Ford F150 Pickup |
| 1968 | Kaiser M715 Willy's Jeep |
| 1969 | Ford Torino Cobra |
| 1969 | AMC Rambler Scrambler |
| 1969 | AMX |
| 1969 | Dodge Charger "General Lee" (on loan) |
| 1969 | Ford Mach 1 Mustang 428 Cobra Jet |
1970's
| Year | Make/Model |
| --- | --- |
| 1970 | AMC Rebel Machine |
| 1970 | Dodge Challenger RT Convertible |
| 1970 | Plymouth Superbird |
| 1970 | GTO "Judge" Convertible |
| 1970 | AMX |
| 1970 | Ford LTD Broughm |
| 1971 | Pontiac Ventura "Tom Daschel's" |
| 1973 | Monte Carlo |
| 1973 | Dodge Wrecker |
| 1974 | Briklan |
| 1975 | AMC Pacer |
| 1975 | Mini Contesse |
| 1975 | Olds Delta 88 Convertible |
| 1975 | Pinto Runabout |
| 1977 | Mustang II |
| 1978 | Dodge "Lil Red Express" Pickup |
| 1979 | AMC Pacer |
| 1979 | Mazda RX 7 Rotary Engine |
1980's
| Year | Make/Model |
| --- | --- |
| 1980 | HM (Freeway - Made in Burnesville, MN) |
| 1981 | East German Trabant |
| 1981 | Datsun 280ZX |
| 1989 | Ford Conversion Van |
1990's - Late models
| Year | Make/Model |
| --- | --- |
| 1994 | Harley-Davidson Fatboy |
| 1994 | Dodge Viper RTV10 |
| 1999 | Plymouth Prowler |
| 2005 | Ford Mustang GT Convertible |