– By #Pioneer Auto Show
July 11, 2012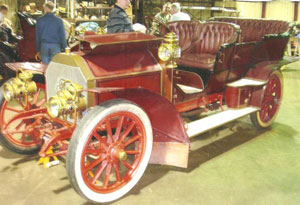 MURDO, S.D. – Pioneer Auto in Murdo, South Dakota has recently acquired a one of a kind 1905 Fiat.
The vehicle was delivered in 1905 to Hollander & Tagman in New York City. Verbal history shows it then sold to August H. Busch in St Louis, and is now believed to be the only 69 Horsepower Fiat in existence.
"This car was one of the first models to be produced by Fiat," said Dave Geisler Sr., owner of Pioneer Auto. "We are excited to add the historic value and distinctiveness of the 1905 Fiat to our collection."
With a 650 cubic displacement engine, the 1905 Fiat was a powerful four geared, rear-wheel drive vehicle owned by the elite in the time period, such as Kaiser Wilhelm.
The unique addition to the classic car collection has a running gear priced at $13,000 and a Quinby Body priced at $4,500, making the full price of the car $17,500.
The car will soon be on display for the public at the 2012 Pebble Beach Tour d'Elegance, August 16–19 in Pebble Beach, California. Presented by Rolex, the Pebble Beach Tour d'Elegance is an annual top–ranking collector car show where vehicles are judged for their historical accuracy, their technical merit and their style.
After participating in the Tour d'Elegance, the classic car will be featured in the lobby at the new LeMay Museum in Tacoma, WA. As one of the world's largest auto museums and attractions, this four story museum houses up to 350 cars, trucks and motorcycles.
The historic automobile will then make its way back to its exclusive home, at the Pioneer Auto Museum in Murdo, South Dakota. Here it will remain for automobile enthusiasts across America to admire the one of a kind car when they travel to South Dakota.
"This is an extraordinary discovery for us as collectors," says Geisler Sr. "But it's also a very rare and exciting opportunity for auto fanatics around the world and in South Dakota."
---
Last Modified: